While iron isn't a noble metal, it can take on noble forms
through creativity and craftsmanship
Artigianfer was established in 1997 by Mario Benedetti and Pietro Campagnacci, wrought iron craftsmen driven by the spirit and passion typical of the master forgers of the ancient times.
They still use the basic tools and traditional techniques employed by the blacksmiths of the past (hammers, anvils, tongs and pincers) to obtain a wide range of highly refined hand-crafted products and furnishing accessories, with extraordinary workmanship and maximum attention to detail.
Artigianfer's creations are embellished and rendered unique by swirls, connections, points, fleur de lis motifs, and leaves inspired by natural and geometric forms, all of which are realised using the same techniques employed by iron craftsmen over the course of the centuries (hot hammering, chisel engraving, torsion and bolting).
The wrought iron used for the interior décor products is treated with special finishes developed by the company itself. The wrought iron used for the outdoor products, on the other hand, is galvanised before being painted.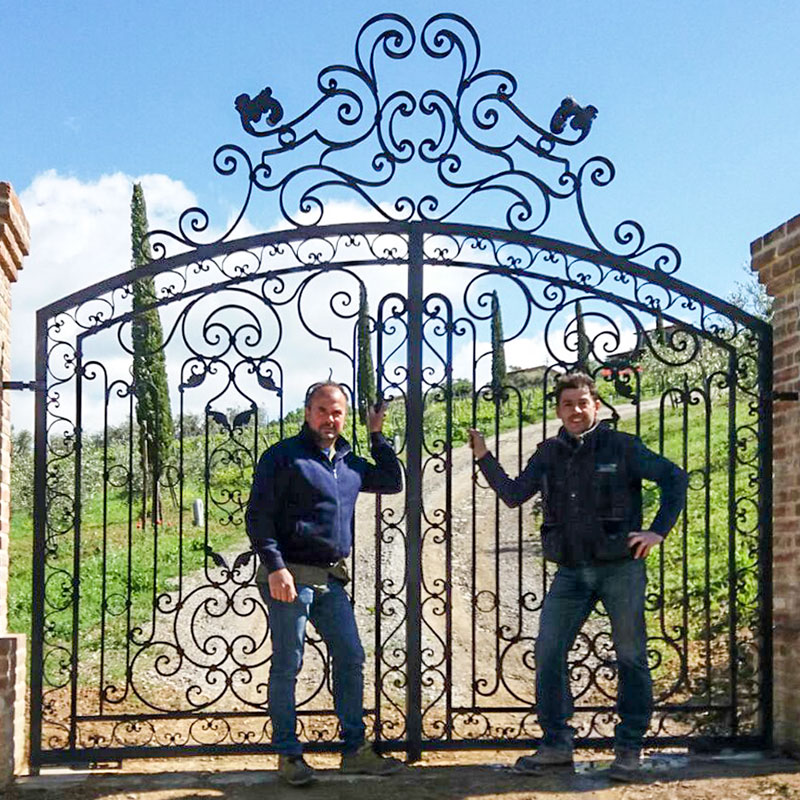 The Showroom gives customers the opportunity to examine many of the wrought iron furnishing items and accessories contained in the catalogue, in order to admire their designs and the quality of their craftsmanship.
Hand-forged wrought iron products can be manufactured based on the customers' own designs.
The wrought iron products contained in the catalogue can be adapted to meet the customer's specific requirements, with model modifications, custom sizes, and numerous finishes to choose from.
The company places its own experience at the customer's disposal, offering consultations and original design solutions for both interiors and exteriors.
Estimates are free. Artigianfer is available to conduct free on-site inspections in the surrounding area.
Made to be handed down from generation to generation, like in the past, Artigianfer's wrought iron products are solid and extremely durable. Nevertheless, the company always remains at its customers' disposal for any problems that may arise.